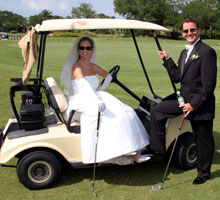 Tie the Knot. Celebrate a Milestone. Commemorate an Occasion.
No matter what type of event, we will help you check every box on your event checklist!
I had a wonderful experience at Willoughby Golf Club. My ceremony and rehearsal were both held there, and the banquet director David was amazing! He was so knowledgeable and helpful. He gave great guidance and advice throughout the whole wedding planning process. The venue was recently renovated and is stunning. The food was wonderful and the service was impeccable. I'm recommending Willoughby Golf Club to anyone who is looking for a classy place to get married.
~theknot.com, Melissa S.
Our professional and experienced team will assist with:
Preliminary planning
Onsite coordination
Entertainment set-up
Customized food and beverage selections
Vendor recommendations
You and your guests can expect to be delighted at our beautiful South Florida venue!
Love where you live. Willoughby.